Hello Internet!
This week marks my very first college Halloweekend!
It lasted a whole week, but Halloweekend sounds better than Halloweek. Today I want to talk about my reflections for surviving this big college holiday.
Costumes
In the past, I had only needed one costume to wear the night of Halloween. I didn't realize that Halloweekend meant a new outfit every night! Some of my friends had been planning their costumes since August, but I didn't have mine finalized until the week before the events! I decided to pick three costumes: Vampire, Angel, and Alien. The Vampire and Alien costume were with a group of people, and my roommate and I decided to do an Angel/Devil combo.
I tried to do as much as I could for the costumes without paying, but Amazon ended up being my biggest lifesaver. Once I had my costumes confirmed, it was time to party.
The Parties
This year, Halloweekend fell on a Wednesday, so I decided to go out on Friday (the 26th), Saturday (the 27th), Wednesday (the 31st). The first night, I was a blood-sucking Vamp: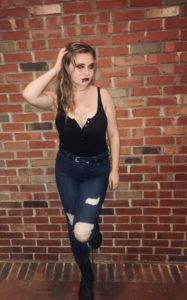 Halloweekend Night One
It was 30˚, and I was freezing on the walk to the party. I was hunched over trying to create friction as we made the seemingly endless 15-minute walk to the frat house. The moment we entered the house, we were all sweating. As with most parties, it was loud, hot, and smelled like many different things. We stayed there for about two hours before deciding to call it a night at 2 AM.
The next night, I became an Angel:
Halloweekend Night Two
Saturday it was a bit warmer (thank god) but still cold as we walked to the party. My roommate and I went as an Angel/Devil pairing and our friends went as Jessie and Woody and Jessie's girl (yes from the song). We began with a before-party at a friend of a friend's dorm (which I am not going to lie, was very awkward) from there, we went to frat party which was (still) a freezing walk. We were there for a bit then decided to move on to a football party that was outdoors, I had never been to a party like that, and it was pretty cool. I knew I had to be up early the next morning so I decided to bow out at around 1:45!
My final Halloween costume was out of this world: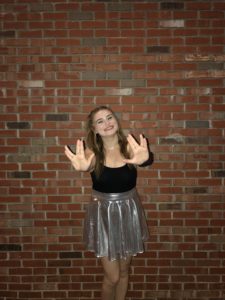 Halloween Night
On Wednesday, October 31st, my friends and I got dressed in our intergalactic costumes and head out at 9:30. The fraternity we were going to decided it would be smart to begin the partying earlier because people had 8AMs the next day. The drawback to being the only fraternity doing a 10:30 party, was that the house was packed. I mean you couldn't move without stepping or shoving someone!
We were there a while, dealing with the claustrophobia until we decided to move on to the club baseball party. This was a FAR walk. When we got there, it was unlike any party I had been to before. It was outdoors and more like a rave. This party was also super crowded but the music was catchy, and we were all having fun. After it got busted (whoops), we made our way home, tired, cranky, but overall happy with how the night turned out.
Reflection
Halloweekend was as exhausting as I thought it would be. There were times I regretted going out and not just chilling in my dorm watching Twitches. I am happy I did this my first year so I know what to expect and so I can plan better for next Halloween. One thing I will do is pick a comfier costume. I put so much effort into what I thought was a stereotypical "college costume" but then I see people in onesies (which is  definetly more my style) so now I know to choose comfort over cuteness.
I hope you guys enjoyed this style of blog post! Let me know below what you thought in the comments, and I will see you on Thursday with a book review!
XOX Shelby Grace