Good Afternoon Lovelies!
Lucky you, you get TWO posts today! To celebrate her new book, The Monster of Selkirk: The Duality of Nature, the wonderful C.E. Clayton is doing a Book Tour with Enchanted Book Promotions and today I am happy to share some excerpts of the book and an interview! Without further ado, here is the interview!
---
1. What inspired you to write the book
I am a huge fan of Bioware's Dragon Age video games, and during one of my play thus, I wanted to write the backstory for my main character. Halfway through I realized it wasn't fun to write a story I already knew, but was still so inspired that I started playing the "what if" game. "What if the elves weren't nice?" "What if there was no magic?" "What if the MC isn't meant to be a savior?" And from there the first book, and in fact, the whole series, took off. From loving this one video game series, it sparked an entirely unique fantasy series.
2. How often do you get writer's block and how do you deal with it?
I tend to get writer's block, like serious writer's block, maybe two to three times per book. Most of the time the easiest and surest way for me to get out of it is to go back and reread/edit the past few chapters I've written. Most of the time my writer's block comes from me being stuck, there's a hole I haven't dealt with and subconsciously it's blocking me.
Rereading what I've already written helps me see where the problem is, fix it, and then I can move on pretty easily. Other times it's because I'm just creatively burnt out so stepping back and away from my computer is the best remedy for that. Whether it's by reading a good book and not touching my work for a few days, or just exploring the area around me to tickle my inspiration, I just need a bit of a recharge and then I can get back at it.
3. What do you enjoy doing when you are not writing?
I love traveling and finding new areas or visiting new places, as well as going to concerts. There's just something magical about watching musicians perform and being swept up in the music. I also really enjoy gardening, it's very therapeutic to me to get my hands dirty and then watch something bloom. Then there are, of course, the normal things like hanging out with my friends and family or playing with my dog, but I think everyone would enjoy that!
4. What was your favorite book when you were younger and what is it now?
My favorite book, well, series really, was The Dragon Riders of Pern books by Anne MacCaffrey. Those were the first books to really spark my love for all things fantasy and science fiction, so they will always hold a special place in my heart. In terms of right now… that's a list that changes frequently as I discover new authors and their books. But, at the moment, I'm definitely loving Six of Crows by Leigh Bardugo!
 More Information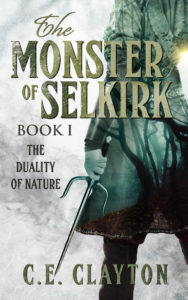 About the Book
Title: The Monster of Selkirk Book 1: The Duality of Nature
Author: C.E. Clayton
Genre: Fantasy
Monsters come in many forms, and not everyone knows a monster when they see one. After three hundred years of monstrous, feral elves plaguing the island nation of Selkirk, everyone believes they know what a monster is. Humans have learned to live with their savage neighbors, enacting a Clearing every four years to push the elves back from their borders. The system has worked for centuries until after one such purge, a babe was found in the forest.
As Tallis grows, she discovers she isn't like everyone else. There is something a little different that makes people leery in her presence, and she only ever makes a handful of friends. But when the
elves gather their forces and emerge from the forests literally hissing Tallis's name like a battle mantra, making friends is the least of her troubles. Tallis and her companions find themselves on an unwilling journey to not only clear her name, but to stop the elves from ravaging her homeland.
Author Bio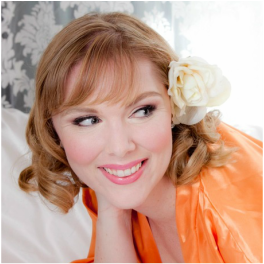 C. E. Clayton was born and raised in the greater Los Angeles area, where she attended the The University of Southern California (Fight On!) for both her Bachelors and Masters, and then worked in the advertising industry for several years on accounts ranging from fast food, to cars, and video games (her personal favorite). After going the traditional career route and becoming restless, she went back to her first love—writing—and hasn't stopped. She is now the author of "The Monster of Selkirk" series and her horror short stories have appeared in anthologies across the country. When she's not writing you can find her treating her fur-babies like humans, constantly drinking tea, and trying to convince her husband to go to more concerts. And reading. She does read quite a bit. More about C.E. Clayton, including her blog, book reviews, social media presence, and newsletter, can be found on her website:
https://www.ceclayton.com/
https://www.bookbub.com/profile/c-e-clayton
Links
Goodreads: https://www.goodreads.com/book/show/34736540-the-duality-of-nature
Amazon: https://www.amazon.com/-/e/B06XSTY6PL
Website: https://www.ceclayton.com/
The Monster of Selkirk Books series available now!
Book Excerpt:
Tallis's mind was racing as they went. There was something much bigger than
anything they had anticipated at work here. She just didn't know what it was. She was holding
so many pieces of the puzzle and yet none of them fit together to make a whole picture, and
yet, she was somehow in the center of it all.
As she walked beside her cousin, weapons at the ready, she whispered, "Why haven't
we come across more elves?"
Donovan gave her a strange look. "What? The ones we have come across haven't been
enough for you?"
"But that's just it," Tallis added quickly. "We've really only encountered the one and
a score of deranged animals. Everyone says that the forests are crawling with elves when you
get this far in, and yet we've seen blessed few. Doesn't this seem, I don't know, just a little bit
odd to you?"
Donovan was silent for a long while. Tallis could not tell if he found her questions
annoying because they were silly, or because they genuinely caused him pause.
Just as Tallis gave up that her cousin would ever respond to her, he said, "Ever since
Aunt Lana died I have said that the elves were changing in their behavior. For whatever
reason, they were going back to old campsites and deciding to fight to the death rather than
flee like they used to. For three years I've had to listen to my commanding officers and even
my fellow knights tell me I was delusional, and I would be stripped of my position if I kept
harping on about being vigilant against a threat they couldn't see. Even you seemed reluctant
to believe me when I said that danger was approaching. But now you see it, the elves are
seeping across Selkirk like a wave that cannot be stopped until it has washed its corruption
over everything we hold dear. I don't find this behavior odd Tallis, I find it expected."
---
I hope you all enjoyed!
XOXO Shelby Grace