Hello Lovelies!!
I know it's been a few weeks but today I want to tell you guys about my cruise over winter break! It was such a fun week and only the second time I have ever been on a cruise. We went on the Royal Caribbean ship, the Allure of the Seas which is one of the world's largest cruise ships. I hope you enjoy!
Day One:
This first day was in a word, stressful. It was my family (5 people), plus my cousins (4 people), and my grandparents. We woke up early and got driven to the port. We checked our bags in and waited a long time to get through security. The rest of the day we all explored the ship, had lunch at a cafe and had dinner. After dinner, we saw the Ship's spotlight show MAMMA MIA! It was really good and made me a bit nostalgic seeing as that was the first show I saw on Broadway.
Day Two:
Today was an early, early, early wake-up day. And by that I mean 6:45. We arrived in Nassau, Bahamas at around 8 AM. My whole family had breakfast together and then we were on our way to the excursion.
We had to take this shuttle/boat to Blue Lagoon Island where our group went on a Segway tour of the island. This was the first time I had ever been on a Segway and you best believe I fell a few times (ok more than a few). We saw some sharks and got to climb this very high tower and see the whole island, it was beautiful.
After the Segway, we had a pretty crappy pizza lunch on the island, but I got my first legal margarita (yay Bahamas). After some relaxation time on the beach, we went back to the cruise ship, had some dinner and relaxed for the rest of the night.
Day Three:
Christmas Day! Today was an all sailing day which means all of our activities were on the boat. We began with a sit-down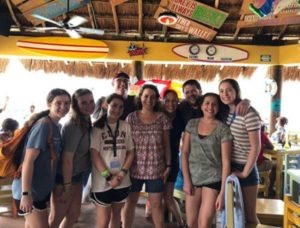 breakfast at one of the ship's restaurants, it was nice to spend time with my grandparents! My mom, sisters, and I all signed up to a Pool fitness class and it was honestly the most fun and funny thing I did that day, but also surprisingly really hard.
The rest of the day was just reading, relaxing, and dinner but then we saw this amazing diving, acrobatic, dancing show called Oceans Aria. It was this beautiful piece  that captured the attention of everyone watching it
Day Four:
Today we landed in Cozumel, Mexico. This was actually my first time in Mexico and I really enjoyed it. My family and my cousins went to an adventure park where we played jungle laser tag. We did parents vs. kids and each team won once. Then we played all of us against our one tour guide, and he beat all of us. After that, we had a tequila tour and tasting which ruined American tequila for me 🙂 We spent the rest of the afternoon on the beach and had a buffet dinner.
Day Five: 
Today's destination was Roatan, Honduras. The excursion for today began a lot later so we spent the morning on the ship playing mini golf (badly) with Grandma, In Roatan, we went to an animal sanctuary. We saw Sloths, Insects, Iguanas, and got to hold Macaws and Monkeys. Note: Now I want a pet monkey.
After the excursion, we stayed in the port to go shopping a bit then had a fancy dinner at one of the nicer restaurants on the cruise ship.
Day Six:
Our final port was Costa Maya, Mexico. We woke up early once more and went to a huge water park in Costa Maya. I am not a rollercoaster person so I assumed it would be the same for water slides but I really enjoyed these.
I started off with some low-level ones then moved to one called the Hurricane in which you go around in a funnel then drop through the middle, only I dropped through head first. After spending most of the day going on rides, we left Costa Maya and had dinner. After my siblings and younger cousins left to do their own thing, I went down to the casino with my parents and played some Blackjack. It was my first time really gambling and I won $39! 
Day 7
Today was the final full day on our cruise and we spent it at sea. We got a sit-down breakfast then spent the day relaxing! I went on a boogie board simulator, got a veggie quesadilla for lunch, and began and finished reading Illuminae by Amie Kaufman. The last night we stressful with repacking and getting everything in order to leave, but it was fun just to have a nice relaxing day.
And that was my trip! It was an amazing experience to get to go to all of these places and I am so grateful to my grandparents for taking my family and me on this trip!
See you all soon!
XOX Shelby Grace