Hello All!
This is a new segment I am going to be doing at the end of each month, wrapping up all the books I've read! Longer reviews for these books are going up later but for right now I just wanted to share my thoughts on the books! This month I read 8 Books which means I have 92 books to go before reaching my ultimate goal! So here are the books I have read  in January 2019:
Even if I fall by Abigail Johnson – ⅘ Stars
Thank you, NetGalley and the publisher for providing me with this ARC! Wow. This book was amazing. I was immediately intrigued by the premise but the book exceeded all my expectations. The reactions and feelings of the characters were so realistic which made this book so good, yet so utterly heartbreaking at times. I can't wait for more people to read it!
Lovestruck by Kate Watson – ⅖ Stars
Thank you to NetGalley and the publisher for allowing me to read this book in return for my honest opinion. I am a big fan of the Cupid and Psyche story and I have read some amazing retellings of this story, but this one was just ok. The premise was good, about Kali accidentally striking herself with the arrow and falling in love with a mortal, but the way it was written was more juvenile puppy love than what I initially thought it would be. I still think the book was good, a bit slow, but funny and easy. I just think it is meant for a younger audience.
Managed by Kristen Callahan – ⅘ Stars
So this is the second book in the VIP series by Kristen and I really liked it because I loved Gabriel's character in the last book and I hearing more about him and his story in this book was so much fun! Sophie and  Gabriel's chemistry was great and I really loved watching their loved story develop!
The Shadow Queen by CJ Redwine – ⅗ Stars
If you know me, you know I love a good retelling, and I love retellings of Snow White. The reason I enjoy Snow White retellings is that I don't like the Disney image of Snow White being so helpless and needing a man to save her. This book was pretty much a run of the mill fantasy novel. I thought Lorelai's character was strong and ambitious but she was also too focused on revenge. I liked the development of her relationship with Kol, especially how they keep saving each other. It was a good read but not anything to sing praises about. I enjoyed the story but was under the impression there would be more books in the series. I did not know it was a standalone novel.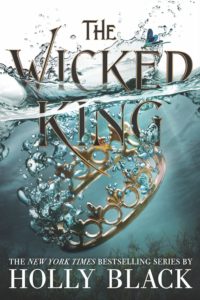 The Wicked King by Holly Black – 5/5 Stars
When I read the Wicked King and I was in absolute awe. Holly Black has created a world that I never want to stop living in. Jude is the definition of a badass female character and even though most of her decisions are morally questionable, they are in line with her character. Cardan has some more redeemable moments in this book but I still love to hate him. The story moved fluidly and I couldn't stop reading it from start to finish.
Shadow & Bone by Leigh Bardugo – ⅘ Stars
Finishing the book, I finally understand what all the hype is about! I literally could not put Shadow & Bone so I sat in my common room and devoured it chapter by chapter. Since I bought a box set of the series, I will be beginning Siege & Storm as soon as possible! One thing I love about this book is the elusive Darkling. His character has many sides and I had so much fun reading the scenes he is in. There is definitely a strong connection between the Darkling and Alina, and I was rooting for them over Mal and Alina.
Dream Keeper by Amber Duell – ⅘ Stars
I would like to say thanks to NetGalley and the Publisher for an ARC of this book! I really really enjoyed this book. The second I saw it I was intrigued. The cover art is beautiful and I really enjoyed the summary. There is not a lot out there about the Sandman and I think Duell has an interesting interpretation of the myth. I really like we get both Nora and the Sandman's perspectives throughout the book, it makes for a more engaging tale. I can't wait for more people to read this!
Siege & Storm by Leigh Bardugo – ⅘ Stars
Siege & Storm is the second book in the Shadow & Bone trilogy (I read the first book earlier this month), and I also zoomed through this book! I saw more of a development in Mal and Alina's relationship and I finally started rooting for them to work. We are also introduced to Nikolai, the illegitimate crown Prince of Ravka who had been away for years and has decided to come back to help with the fight against the Darkling. Really loved reading this book and now I can't wait to read the final book!
And those are my January books! If I keep it up at this pace, my goal of 100 books will be a breeze (I hope), what books did you read this month?
Love you all!
XOX Shelby Grace