Hi Everyone!
Its been a while since I have been a part of a tour so that is why I am so excited to be helping promote Lucid by Kristy Fairlamb. Today I have an exclusive excerpt and giveaway for you all so I hope you enjoy! This tour is sponsored by Chapter by Chapter
Summary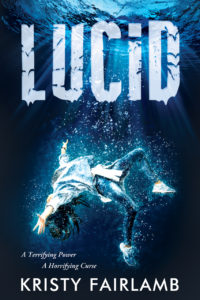 Lucy Piper lives a lonely existence on the precipice between life and death. She possesses the horrifying ability to resurrect real-life tragic events in her nightmares, reliving over and over, as if she were there, the last few moments before the victim takes their final breath. Car accidents, drownings, plane crashes – Lucy has seen it all. No one understands what it's like living death by night and fearing sleep by day.
When Tyler Sims and his family move to town to escape past traumas, Lucy is drawn to him. The two of them are linked through their dreams, and with Tyler's trust and friendship, hope for a brighter future returns to Lucy's world. But Tyler's presence awakens something else in Lucy, and with this new knowledge, she will be forced to make impossible decisions. Decisions that will change history, and the future.
Excerpt for Lucid
Dreams are the door to the soul, although, in my case, the door led to someone else's – someone whose life just ended.
        My feet pounded the secluded dirt track on the edge of town, as if I could stomp away my last nightmare. Blood rushed through me, the endorphins buzzing to the outer inches of my body. Why did she have to die? If she were five more metres down the road the rock would've missed her. She was gone before she knew what happened – the only blessing in an otherwise senseless disaster.
        I stopped and hunched over, my hand resting on the rough tree trunk. Battered breath in. Aching breath out. I squeezed my eyes closed, trying desperately to rid my mind of the image. Thick auburn hair covered half her young face as she lay there, blue eyes wide open, blood pooling and coating her cheek.
        I kicked the tree. Damn it.
        'Get a grip Lucy,' I whispered into the trees. 'You've seen it all before.'
        I tightened my hands into fists and launched my feet forward. I loved this track and the crisp gum-scented air that breezed past my face and cleared the relentless smog in my mind. A camera reel of the worst news headlines, shown in full, high-definition, blood-splattering clarity. Why couldn't my dreams be filled with flying or snowboarding? Hell, I'd even prefer a constant recap of my maths lessons with Mr Blythe. Sadly, there was never any flying, only an eternal loop playing the end of life, arrival of death, and a series of last breaths.
        Tree branches encroached onto the path as I raced through dense brush, and then burst into the clearing. The scrub dispersed into farmland and empty hilly paddocks, before melting into a backdrop of mountains towering our small town. I stopped at the flimsy wire fence and caught my breath. The rhythm from my earphones slowed, mirroring my heartbeat. The harmonious tune and soft breeze enveloped me, gave me comfort, peace. I inhaled, sucking it all in.
        Beyond the fence, one of the three black-and-white cows lifted her head and acknowledged me, this thing that had interrupted her solitude. I stared back until she bent for another mouthful of grass, and then I spun toward home, my thick, dark ponytail whipping my warm cheeks.
        The last of the track merged into road and part of the residential area of Antil Springs. I paused at the top of the steep hill stretching into town, where we came with our sleds on the rare occasions it snowed this far from the mountains. A bland row of half-empty houses lined either side of the street, patiently waiting for their winter inhabitants to bring them back to life. At the end of each winter the streets were like a slow evacuation – only the truly committed stayed behind.
        Antil had a lot going for it, even if it was a tiny blip on the map. Tiny might be a slight exaggeration, but with only one set of stop lights, one lowly supermarket – which used the lack of competition as a green light to bump the prices sky high – and one high school, it was fair. Although the copious amounts of restaurants and cafes did lend to an appearance of something larger and more alive than what we knew for most of the year. We were a tourist town, the four backpacker hostels and six real estate agents shouting 'Come live here!' were evidence of that.
        Winter was our attraction, and outside of that we slipped back into the quiet-town shoes we felt most comfortable in – even with no hospital, no library, and terrible internet coverage. With two hundred kilometres between us and the east coast of Australia, we were close enough to the busy cities if we needed them, but far enough away that we tried not to.
        I started down the hill, my feet moving in time with the easy beat from Of Monsters and Men's 'Slow and Steady'. A flash of hair, the colour of my strong morning coffee, caught my attention. A boy climbed into a green removalist's truck, and waves of familiarity coursed through me.
        I stopped running, hands on hips, and caught my breath as I tried to place where I'd seen him. The truck sat reversed in the driveway of a red-bricked house across the road. The large 'For Sale' sign pegged into the dying front lawn now had a 'Sold' sticker plastered across its front.
        I didn't know anyone from out of town, except my grandparents, aunts, and uncles. Maybe he resembled someone from a dream. I remembered all of the victim's faces. Obviously he wasn't one of those, and yet I recognised him. Why?
        He slid out of the truck, his strong forearms wrapped around a large box, muscles bulging at the weight – nice. In tight black jeans and a denim shirt, sleeves rolled up to his elbows, he strode up the driveway. A smile tugged on my lips when I took in the black low-top Cons on his feet – my favourite. Tendrils of wild hair poked up haphazardly and flicked down one side of his forehead, awakening that unyielding familiarity again. I could almost guarantee someone in a dream had hair exactly like that. I needed to know who. For no more reason than not letting a question go unanswered. As much as standing there appraising him appealed, I suddenly itched to get home – I knew exactly where to look.
Walking down the hill, I turned back as he stepped through the front door, shouting, 'Mum! You want this one in the back?'
~~~~~~~~~~~~~~~~~~~~~~~~~~~~~~~~~
Link to Goodreads:
https://www.goodreads.com/book/show/42902280-lucid
Purchase Links:
BAM | Chapters | Indies | Amazon | TBD
Link to Tour Schedule:
http://www.chapter-by-chapter.com/tour-schedule-lucid-by-kristy-fairlamb/
Giveaway Details:
Mini Cadbury's English Wicker Hamper
http://www.rafflecopter.com/rafl/display/ba02fc2a14/?
I hope you all enjoyed! Let me know if this book interests you and if you plan on checking it out!
Till Next Time!
XOX Shelby Grace