Good Morning Lovelies!
I am so excited to be revealing my good friend Chani's new book cover and synopsis! Chani Lynn Feener is the author of books such as Amid Stars and Darkness and Unhinged! Without further ado, here is the synopsis for her new book, Tithe!
Synopsis
Cursed with the sight; torn between forbidden loves…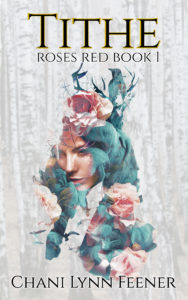 Arden Archer is cursed: she can see the Unseelie fae. It is a gift that sends the women of her family to an early grave. But there's a way to break the curse: offer herself up as the Tithe. Every seven years, the faerie regents pit cursed humans against one another, offering salvation to both parties.
This year, Arden is one of those human competitors–a Heartless–and with the help of Unseelie Mavek Midnight, she intends to win. That is, until Eskel arrives, unearthing secrets and planting doubt. Can Mavek be trusted? Is there more to the Tithe than what he's told her?
Torn between the forbidden Unseelie she's loved and the new human boy with a dark past, Arden must discover the truth before All Saint's Eve or risk losing her soul to a beautiful monster.
___________
How cool is that? This book will be released on October 31st, 2019! Also be sure to preorder the final book in the Xenith Trilogy which will be out July 16th, 2019.
Be sure to follow Chani on Instagram for more updates @TempestChani!
XOX Shelby Grace