Good Morning everyone!
Today I am reviewing Star-Crossed by Pintip Dunn! got this book from Pintip while at Apollycon 2019! She signed it to my sister and I so I was so excited to read this book! I finished it in two days, and am so excited to share my thoughts with you!
Synopsis
Princess Vela's people are starving.
Stranded on a planet that lacks food, Vela makes the ultimate sacrifice and becomes an Aegis for her people. Accepting a genetic modification that takes sixty years off her life, she can feed her colony via nutrition pills. But her best friend is still getting worse. And she's not the only one.
Now the king is dying, too.
When the boy she's had a crush on since childhood volunteers to give his life for her father's, Vela realizes her people need more than pills to survive. As tensions rise between Aegis and colonists, secrets and sabotage begin to threaten the future of the colony itself.
Unless Vela is brave enough to save them all…
Plot
The premise of this book is that the human race came to a far away planet only to discover there was no food or nutrients to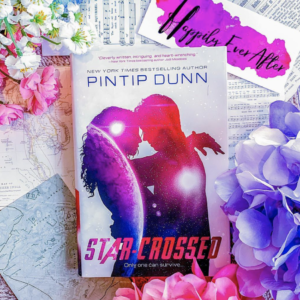 sustain them. Scientists discovered the only way to provide food was to genetically change people's DNA so that the nutrients they consumed could be extracted into pills to feed the rest of society, but doing so would shave years off of their lives.
I thought this was a very unique plotline, a bit confusing to understand at first but when the actual story began, I found it to be a pretty good book
Main Character
The main character in this book Princess Vela is currently competing with her sister to be the heir to the throne. Blanca is tough and makes hard decisions while Vela is more compassionate and cares for the people. They are both given hard tasks in order for the council to make their decision.
Through this task, I believe Vela shows really good character development and that makes her character really fun to read about. We see the changes she undergoes, and everything doesn't always go right. She has to work to succeed which makes her a very compelling character.
Last Thoughts
Star-Crossed was ultimately a really good book although hard to get into at first. There is little context at the beginning so you are sort of thrown into this new world. Once you start to understand the world and its laws, it becomes really enjoyable to read!
Rating

I hope you enjoyed this review! Let me know your thoughts below!
XOX Shelby Grace