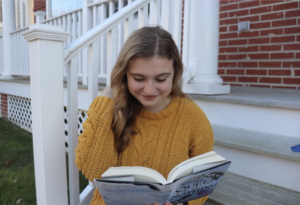 Hello Hello Hello!
My name is Shelby Levine, and I am a 19-year old bibliophile!! I am currently pursuing a bachelor's degree in Theater and Psychology and a minor in Creative Writing at Elon University.
I love books, theater, writing, filmmaking, and photography, and love that I am able to pursue my passions in a variety of mediums! I express myself in my booktube videos, in my bookstagram photos, and here on my blog!
I started this blog when I was 15 because I wanted to further critique and analyze the books I was reading. Books have always bee such a large part of my life and it made sense for me to show my love of them in a new way. I review primarily young adult/new adult fantasy, paranormal, dark romance, and contemporary romance! Since then, I have broadened the content of my blog to include college advice, booktube content, and much much more!
I hope you enjoy and find my posts informative and helpful! I always value feedback so feel free to contact me with any questions, comments, or requests! I always love hearing from you!
XOX Shelby Grace
Click here to see my review policy: http://gracedwithbooks.com/my-policy/